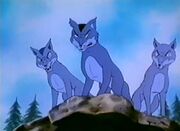 The Blue Foxes are residents of White Deer Park in the TV series. They are led by Scarface and his mate Lady Blue. The blue foxes feel threatened when Fox and the other Farthing Wood animals arrive at White Deer Park and feel the need to get rid of them.
The blue foxes are actually based on the silver fox, a colour variant of the common red fox. Despite the name, silver foxes can vary greatly in colour, and some are actually bluish-grey, which is the colour of the blue foxes in the series. In the books they are regular red foxes like Fox and Vixen, but they are changed to blue in the TV series to avoid confusion between the different fox families. Strangely none of the Blue Foxes appear in Series 3, except for Ranger.
Known Blue Foxes
Edit
Books and TV series
TV series only
Ranger's sister, a daughter of Scarface and Lady Blue. She makes three cameo appearances in the second season, then she completely disappears.
Appearances
Edit
Television Series