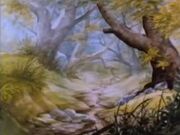 Farthing Wood is an area of woodland which was once the home of Fox and his friends before it was destroyed and built over by humans. Most of the Farthing Wood residents left their homes and journeyed across the countryside to make a new start in White Deer Park. After the wood has been built over by the humans, the new town is known as Farthinghurst and surrounding it is a grassland called Farthing Heath.
Farthing Wood has had at least two assemblies held with in it. The first known is during Farthing Wood: The Adventure Begins when all the animals discuss the humans in the Wood, the sickness and bringing the otters back.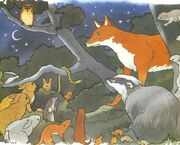 The second assembly wasn't held for another five years when the Wood is being slowly destroyed by the humans and it is decided at the end of it that the animals are going to leave the Wood for White Deer Park.
Known Residents
Edit
Ad blocker interference detected!
Wikia is a free-to-use site that makes money from advertising. We have a modified experience for viewers using ad blockers

Wikia is not accessible if you've made further modifications. Remove the custom ad blocker rule(s) and the page will load as expected.