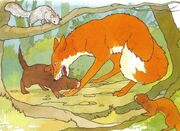 The Farthing Wood Stoats are the stoats that live in Farthing Wood during Farthing Wood: The Adventure Begins. They do not appear in any later books or the TV series, as they have all died out before the animals begin their journey to White Deer Park.
Known Farthing Wood Stoats
Edit
Ad blocker interference detected!
Wikia is a free-to-use site that makes money from advertising. We have a modified experience for viewers using ad blockers

Wikia is not accessible if you've made further modifications. Remove the custom ad blocker rule(s) and the page will load as expected.