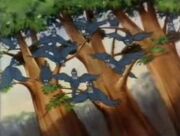 The Rooks are a group of birds who appear in the books and the TV series. They are first encountered by the Farthing Wood animals in a copse on the journey to White Deer Park. The rooks welcome the animals and invite them to an evening of singing before the animals head off to continue their journey.
In the books Tawny Owl returns to the copse on his quest to find a mate, but none of the rooks recognise him and they see him as a threat to their young chicks, so Owl is forced to leave. He later returns to the copse only to discover that the hurricane has blown down many of the trees and the rooks are flying around in disarray, unable to understand what has happened. In the TV series Owl only meets three rooks at the copse who tell her she'll never find a mate because she "hasn't a warm heart". When she returns to the copse she is informed by the Moth-Eaten Rook that all the other rooks have been killed except one small chick, which he now has to take care of himself.
Ad blocker interference detected!
Wikia is a free-to-use site that makes money from advertising. We have a modified experience for viewers using ad blockers

Wikia is not accessible if you've made further modifications. Remove the custom ad blocker rule(s) and the page will load as expected.